Polarization Maintaining Optical Circulator
Product Features
Product Applications
High Isolation
Research
Low Insertion Loss
High Extinction Ratio
Excellent Stability
Fiber optic Instruments
Specifications
Parameter
Unit
Type A
Type B
Central Wavelength (λc)
nm
1310 or 1550
Operating Wavelength Range
nm
±30
±20
Insertion Loss, λc, 23°C
Typ.
dB
0.7
0.6
Insertion Loss
Max.
dB
0.9
0.8
Peak Isolation
Typ.
dB
52
40
Isolation, λc, 23°C
Typ.
dB
46
30
Isolation, 23°C
Min.
dB
40
20
Extinction Ratio
Min.
dB
22
20
Crosstalk
Min.
dB
50
Return Loss
Min.
dB
50
Optical Power (Continuous Wave)
Max.
mW
300
Tensile Load
Max.
N
5
Operating Temperature
°C
-5 to +70
Storage Temperature
°C
-40 to +85
IL is 0.3 dB higher, RL is 5 dB lower, and ER is 2 dB lower for each connector added. Connector key is aligned to slow axis.
The routes incoming signals from Port 1 to Port 2,and incoming Port 2 signals to Port 3.
Package Dimensions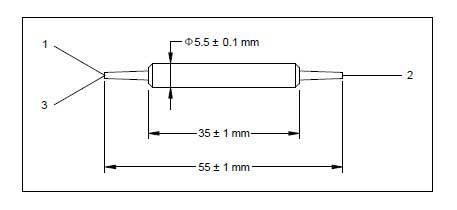 Ordering Information
P
M
O
C
I
R
Wavelength
4=1550nm
7=1310nm
Type
A=Type A
B=Type B
Package
C= Ø5.5 x L35
Pigtail
S=250μm bare
fiber pigtail
M=0.9mm loose
tube
Fiber Type
E=Panda Fiber
Fiber Length
0=0.5m
1=0.75m
2=1.0m
Connector
0=None
3=FC/APC
5=SC/APC
7=FC/UPC
8=SC/UPC
Note: All specifications are before connectors and are subject to change without notice.