On September 10, 2016, Chinese society of electrical engineering organized and held the "FCA-01 series all-fiber optic current sensor" product technology appraisal meeting in Beijing guidu hotel, which was developed by comcore optical sensor technology co., LTD. Appraisal committee is composed of nine experts, from its Chinese web information and communication, director of the company general manager, liu jianming as its top ten leading talents, xi 'an high voltage electric dean lee served as deputy director of the committee members by its Chinese ministry of science and technology Shen Jiang, its dc Guo Xianshan director, deputy director of the global energy Internet qing-ping wang head office, China electric test center Ye Guoxiong research institute, China general electric Liu Youwei strategy research center director, institute of metallurgy research institute general chong-jian li, Beijing aerospace university professor Yang Yuanhong general seven experts. Also present at the appraisal meeting were five industry experts, respectively from the ministry of science and technology, state grid economic research institute, China institute of electrical technology, xd group and heping high group. The appraisal committee listened to the introduction of the work and technical reports, test reports, technology novelty reports and applications, and reviewed the relevant technical data. Upon inquiry, q&a and discussion, the following expert opinions have been formed: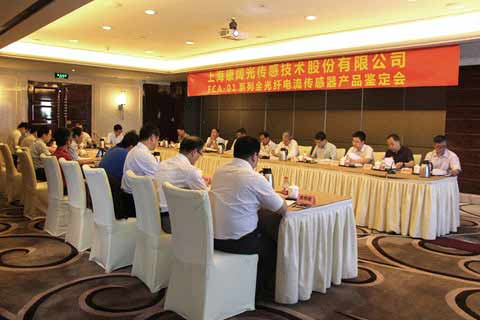 1. The submitted appraisal materials are complete, standard and in line with the appraisal requirements.
2. Aiming at the problems of long-term stability, reliability and large-scale production of all-fiber current sensors, the core devices and core sensing materials of all-fiber current sensors were studied, and FCA-01 series all-fiber current sensors were developed and applied in practice.
Major innovations include:
(1) an integrated pitch-varying optical fiber wave plate and elliptically polarized sensing fiber have been developed to ensure the consistency and stability of all fiber optic current sensors.
(2) research and development of the above current sensing optical fiber production equipment and process, to achieve the large-scale production of high-performance current sensing optical fiber.
(3) a novel linear polarization preserving fiber coupler structure was proposed, and a temperature and polarization state insensitive linear polarization preserving fiber coupler was developed, which further improved the stability of all-fiber current sensor.
(4) flexible current sensing optical cable is developed to resist bending stress and vibration, and flexible installation or external card installation of all-fiber current sensor is realized.
3. The developed FCA-01 series all-fiber current sensors have passed the tests of the quality inspection and testing center of electrical equipment in the power industry and the national quality supervision and testing center of high-voltage electrical appliances respectively, and the technical indicators are in line with the relevant national standards.
4. The developed FCA-01 series all-fiber optic current sensor has been running in the 1000kV uhv ac test base of China electric power research institute since September 2014. Since June 2015, I have been in the electric equipment quality inspection and testing center of the power industry and conducted a long-term performance assessment of the outdoor test station for one year, during which the accuracy met the 0.2 level requirements. Since April 2016, it has been connected to the grid in lingzhou converter station of 800kV linzhou-shaozhou dc transmission project, and it has been working normally so far.
The appraisal committee believes that the FCA-01 series all-fiber optic current sensor developed by comcore optical sensing technology co., ltd. has advanced technology, high reliability and overall performance up to the international advanced level. Among them, it has reached the international leading level in such aspects as pitch changing optical fiber wave plate, elliptical polarization maintaining sensing optical fiber, line-preserving polarization optical fiber coupler and so on.